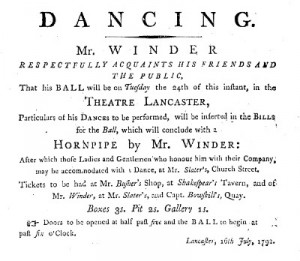 JOHN WINDER MS
DANCING MASTER
1789
Shropshire, England
REFERRED TO BY VMP CODE AS "JWDM" IN TITLE (for John Winder, Dancing Master)
"John Winder, Book, April 1789."
"In all thine actions and intentions see that God thine Alpha and Omega be"
"John Winder hand and pen"
Also inscribed, sideways in a different hand, "William Roberts."
This is a book of 54 Dance Tunes reported by Alan Nowell to be in the possession of Wilf Wrigley, Bernard Wrigley's step brother, who comes of the Roberts family of Shropshire.
It is clearly connected in some way to the large MS collection from the Winder clan of Wyresdale, in Lancashire. Cecil Sharp apparently copied a tune out of one of these MSS in 1911.
Written in a bold hand, with one or two additions at the back of the book in a different hand, possibly Wm. Roberts.